2019 
Alan played 'Harry' for Bare Productions in The Sum of Us by David Stephens. Reviewed on Table Water for Two. And on Sydney Arts Guide.
His performance won the City of Newcastle Drama Association (CONDA) Award for a male actor in a leading role in a drama or comedy. The production was also nominated for the Best Dramatic Production award.
2018
Love Letters by A.R.Gurney. Alan played 'Andy' for Bare Productions. Reviewed in the Newcastle Herald.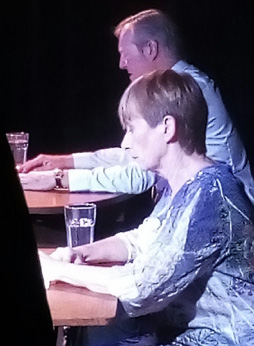 Stooged Theatre reprised Cock at Nimbin's Bush Theatre in September 2018.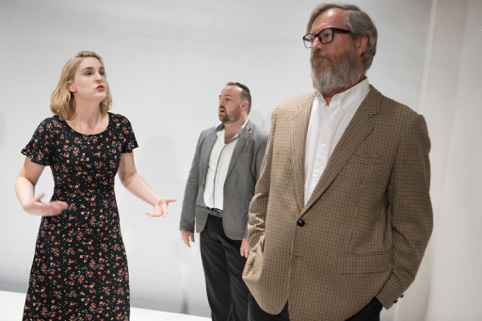 2017
Cock by Mike Bartlett. Alan played 'F' for Newcastle's Stooged Theatre.
Here are reviews by the Newcastle Herald, Sydney Arts Guide and On the Town.
2016
A busy theatrical year for Alan.
In April he conceived a celebration of the 400th deathday of William Shakespeare.
Shakespeare 400 was a somewhat silly, though at times highly dramatic, romp through the Bard's life and work. The season sold out.
November was really active as Alan opened in Ira Levin's Deathtrap. Alan first performed this comedy thriller in 1982 playing Clifford, the younger of two writers. With the passage of time Alan played Sidney, the older writer. Both roles were challenging fun.

To end the year, Radio Wollombi, written by Alan and Bob Philippe, was performed at the inaugural season of the Hunter Valley Summer Theatre at Kevin Sobels Wines in Pokolbin, and Lizotte's in Newcastle. A live radio comedy show including over seventy voices, original jingles & songs, and live sound effects, Radio Wollombi was first performed in 1999, toured in 2003, and rebooted this year due to popular demand.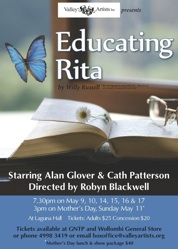 In 2014 Alan accepted the role of Frank in Educating Rita, for Valley Artists Inc. This two-hander by Willy Russell has been a theatre staple since its first outing. Judging by the audience response to this production it will continue to be hugely popular for many years.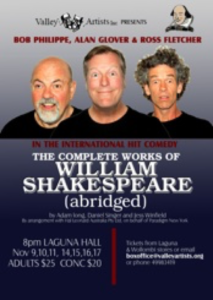 Alan was on the stage in November 2012 performing The Complete Works of William Shakespeare (abridged) with his long time thespi-mates, Bob Philippe and Ross Fletcher. The show presents all of Shaxpere's plays in 96 minutes – fast and funny – and was produced by Valley Artists Inc. in the lower Hunter Valley (aka the Arts End of the Hunter).
2011 saw Alan hit the road in The Dog Logs as actor and co-director. The Dog Logs is a series of eleven monologues from ten dogs and one bitch. Three actors portray the eleven breeds delivering the dog's point of view. Some comic, some tragic, all ultimately about humans. The Dog Logs toured NSW and Victoria through 2011.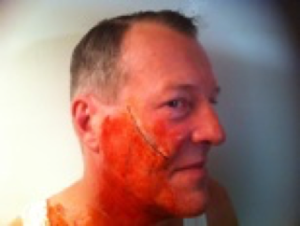 March 2011, Alan shot an episode for the award-winning TV series Tough Nuts. The series focuses on Australian criminals through re-enactments and interviews with those involved. Alan played 'Big Jim,' husband of infamous Sydney madam, Tilly Devine. Jim is a rather unsavoury character who gets his comeuppance. Directed by Laurence Coy, the series is high quality drama.
Since 1986 Alan's home has been in the Hunter Valley of New South Wales, Australia. It was there, in Wollombi, in 1998, that Alan and friends founded a community theatre company, Valley Artists Inc. Since that time, Valley Artists has fostered much local writing, such as Peter McDonough's The Finnys, which was very much a full time project for Alan – as well as dramaturge he played the lead, 'Doc.' The company also stages classics such as David Williamson's The Removalists and in April 2006, Oscar Wilde's The Importance of Being Earnest (with Alan as Lady Bracknell).
In May 2007, Alan played Roo in the classic Australian play, Summer of the Seventeenth Doll. Twenty six years earlier, in Sydney, Alan had played the young upstart Johnny Dowd in the same play. If he lives long enough he could one day play the comic dame of the piece, Emma.
In 2008 Alan played Jim in Michael Gow's Away, and devised and directed EclecticA: A Confection of New Australian Theatre. This last was a great challenge for all involved.
Valley Artists places particular emphasis on new Australian writing and Alan has contributed sketches & short plays. Alan's writing includes one act plays, television comedy and standup comedy.
Alan first studied acting in Sydney with the Australian Theatre for Young People, the Arts Council of NSW, then the Graham Corry School of Acting. In 2002 Alan completed the course 'Skill Development Through Shakespeare' with the Royal Academy of Dramatic Art in London.