History.
Almost every year since 2004 Alan's been putting on a Comedy Night in the lower Hunter Valley for his local folk and visitors, bringing in whatever show strikes his fancy or seems appropriate.
September 2017 was the most recent instalment, featuring Tommy Dean, who you'll know from Good News Week and ABC Sydney radio's TGIF, and Greg Sullivan, one of Queensland's funniest.
In 2010 it was all the comedians he'd worked with on the film, Up The Aisle. Other acts over the years include Peter Berner, Mandy Nolan, Garry Who, Anthony Mir, Calvin DeGrey and Keith Scott.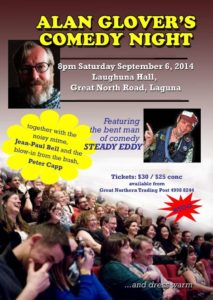 In 2011 he brought in his old mate, Steady Eddy. Alan's known Steady since the bent man started in standup. They wrote and toured together for many years. Other performers that night included local Bob Philippe (who's way too funny for an occasional comedian) and Alan's long standing comedy partner, S Sorrensen. Steady returned by popular demand in 2014.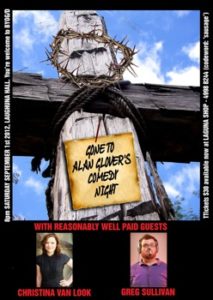 The 2012 Comedy Night was on September 1st at Laguna Hall (traditional venue) in the Wollombi Valley. Headliner was the world's most laid-back comedian, ex-Queenslander, Greg Sullivan (he showed up). You've heard of slow food and slow cities, Greg (although he hasn't cottoned on yet) is the first ever 'slow comedian.' His jokes sneak up on you just when you thought there was no point to his chatter. Of course he sometimes goes rapid fire just to let you compare the two approaches. Plus, he's gorgeous!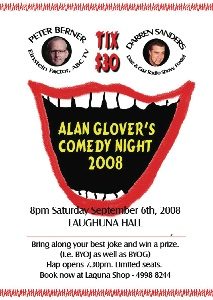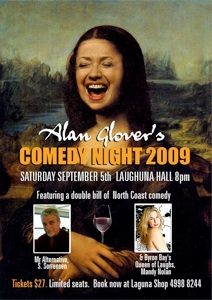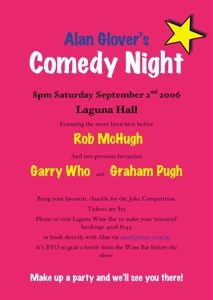 If you'd like to know more about the show,

and ask to be added to the show mailing list.