There's nothing like laughter to bring a group together. "Standup, television & radio comedian" would sum up Alan's career pretty quickly though the variety of work he's undertaken can't be so easily condensed. In the corporate events department Alan has been a writer, performer, producer, MC, talent scout and, throughout, the much-needed comic relief.
Without conscious aim, Alan has practiced the art of off-the-cuff speaking for most of his career. Twenty nine years as an international standup comedian (Australia, UK, Europe, USA, South East Asia, New Zealand); dozens of corporate functions (Apple, Arnott's, BMW Australia, BT, Microsoft, Mortgage Choice, Nissan, Nokia, Optus, SmithKline Beecham); countless episodes of hidden camera shows (Just Kidding, You've Got To Be Joking, Candid Camera in Australia and in New Zealand) have all honed Alan's ability to ad lib in any situation.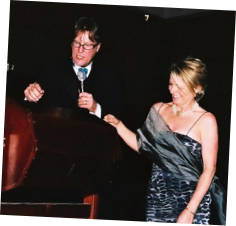 As a master of ceremonies, Alan is more than capable of handling single events or keeping an audience sitting happily through day after day of training sessions, workshops, guest and in-house speakers. Alan has the business sense to find an appropriate remark to lift an audience while underlining the speaker, moment or presentation in which he is engaged. Attention to detail and thorough preparation are the hallmarks of Alan's corporate work.